A meddler in northern affairs
Posted March 30th, 2012 by Thømas
in
It had taken the wayfaring wizard days to reach Menethil - first challenged by the arid lands north of Elwynn, then the cold mountain and kingdom of the dwarves, Khaz Modan, only to finally reach the rain of the midlands. He had arrived on the 22nd day of March at the gates of the flooded harbour soaked and exhausted; the additional shirt and thick mantle having done very little to protect him from the nature. Encountering the mass of Alliance soldiers at the gates and the abundance of water inside, he headed for the inn - deciding to eat, rest and ponder. His brown hat had to also be dried before any further travelling could issue.

On the 25th evening, as the commotion around Menethil increased and with rumors of Forsaken deathstalkers about spreading, Tom threw the satchel on his back, grabbed the wooden stave and decided on heading towards the northern lands. Wandering outside the harbour alone was, however, a fool's errand; it was the luck of encountering elven sentinels, that he safely reached his destination.
Studying from afar, on a piece of land underneath a tree, with water in his boots. The Kaldorei sentinels were the perfect protectors.

Involuntarily escorted by them and ultimately noticed, he was welcomed with remarks of the obvious from one, and not-so-much kindness from another. All of them just as tense as the previously encountered dwarven caravan - for natural reasons.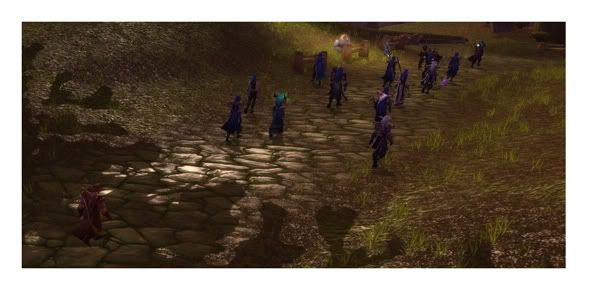 Onwards he travelled along with the group and its apparent leader, hoping that, should hostilities occur, he would be involuntarily defended - therefore not needing his own weapons.

Reaching the desired location, he departed. He uttered unheard thanks while the elves passed by him. Curiosity, however, lent him to follow further.

He ended listening to a most interesting conversation: boat trips, Stormguard, Hammerfall and numbers - the majority of the interlocutors being the elves who had so kindly guided him.