Northern Watch
| | |
| --- | --- |
| Website | Visit us on Facebook! |
| Founding date | 01-06-2011 |
| Goal | Demoralize the enemy from within by surprise, terror, sabotage and assassination. This is how we fight this war! |
| Main area of operations | Northrend, Lordaeron, Stromgarde and Gilneas. |
| Faction | Alliance |
| Opposite faction attitude | Extremely hostile |
| Friends/Allies | Northern Bastion, Arathi Honour Guard, Anvilmar Iron Brigade, The Royal Court. |
| Rivals/Enemies | Scourge, Forsaken, the Horde and Scarlet traitors |
| Guild status | Active and recruiting |
| Recruiting Officer(s) | Commander Éllí Deathblade. Inner Circle: and Lylanda Grace. Specialists: Grevdir Sharpshadow, Vexella Shine, Krinard Blackmane |
Background


"Demoralize the enemy from within by surprise, terror, sabotage and assassination. This is how we fight this war"
The Northern Kingdoms are no more. Northrend, Lordaeron, Stromgarde and Gilneas have been shattered, the once magnificent cities lying in utter ruins. While most of the people have sought refuge elsewhere in the world, some are desperately clinging to their hope of reclaiming, rebuilding and one day restoring the former glory of the North.

Amongst the people putting their lives on the line, enduring the hardship of these sometimes cold and unforgiving lands, is a small militia of men and women of different heredity and reputation, united to guard the Northern realms against the threat of the vile and gruesome creatures and the evil that inhabit them: the Northern Watch.
Founded  some months before the death of Arthas the Betrayer by a handful of outcasts and a land deprived but well-heeled nobleman.  Motivated to fight for their kin, but unable or unwilling to enlist into the regular forces due to persistent immoral behavior, grim criminal records or headstrong and rebellious nature.
Scouts, hunters and trackers, those able with blade and bow, trained and corrected with a hardy discipline and daily routine. Offered nothing more in return than some simple equipment, two silver and three meals a day, a place by the fire and perhaps most important, a chance to start a new life, no questions asked.
Most Watchmen have a chaotic neutral alignment: (individual) freedom above all.

Any man or woman that embraces the chance to start anew, may serve in the Northern Watch. If he or she has come voluntarily, he or she is free to leave at any time, but if he or she is in service as a criminal punishment or exile, desertion is punishable by death.
No man or woman is rejected from service, origins, nationality, social standing or religion matter not, all that is requested is dedication to the sworn cause: defending the Northern realms of mankind against the dangers that inhabit them.
The men and women of the Northern Watch lead a wandering existence, travelling from place to place, from a simple camp in the wilds to an impressive Keep. Never depending on their host for more than the security of their walls. Breezing in wherever needed or requested.
It is known amongst some that the Watch has a number of temporary stations aside from their encampments: Dalson's farm (Western Plaguelands) and Fenris Keep (Silverpine Forest) in Lordaeron, Stromgarde in Arathi and Keel harbour in Gilneas.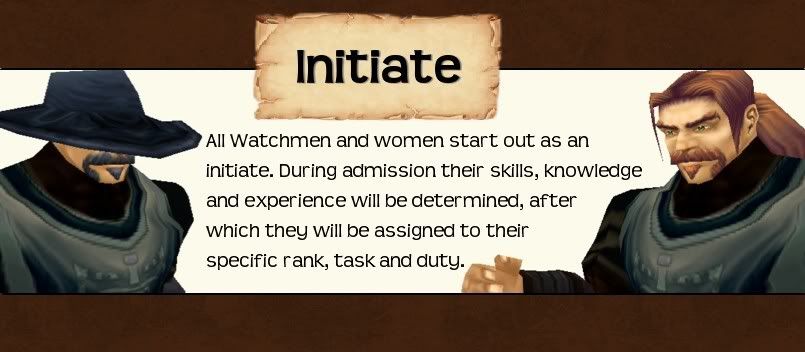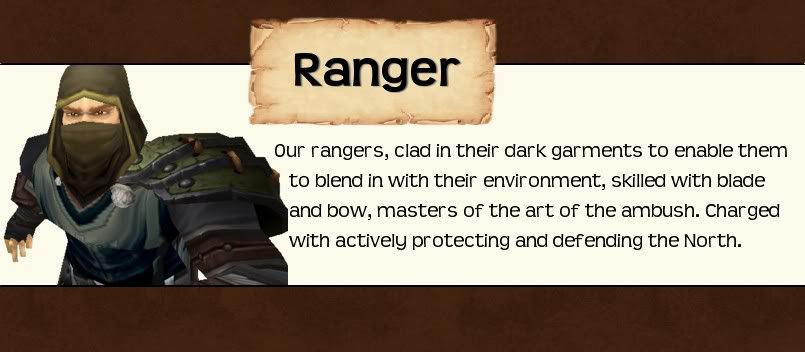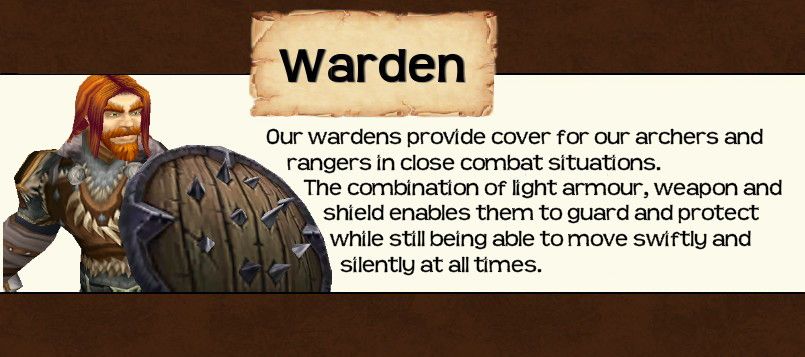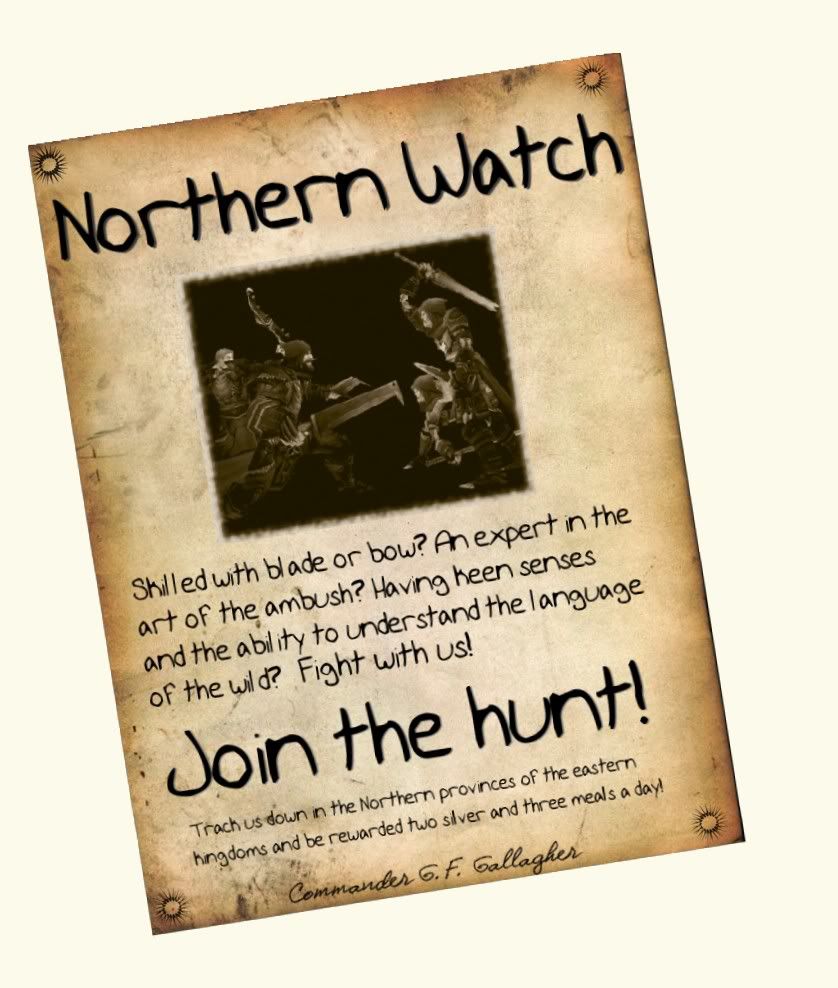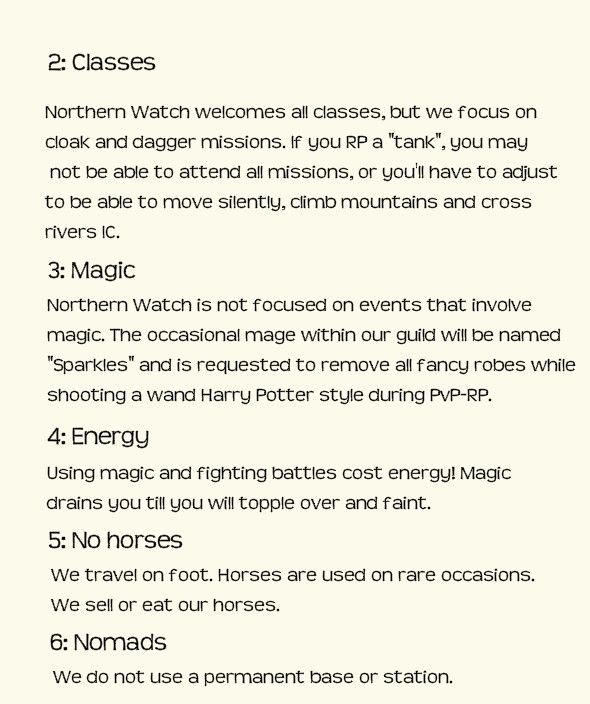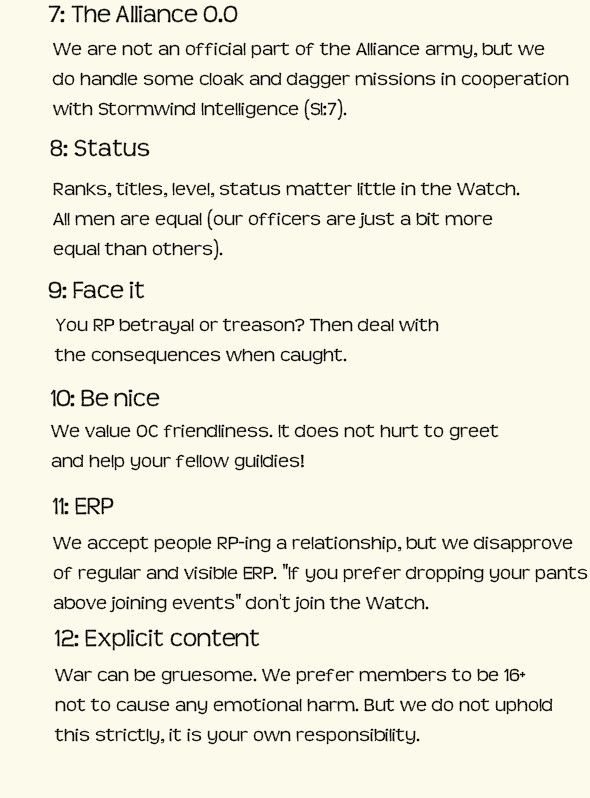 Members
Adventures by Members
Snaps by Members