Arîel
Ariel Dawnstrider
| | |
| --- | --- |
| Name | Arîel |
| Occupation | Blood Knight |
| Age | Young |
Outward Appearance

"When faced with untenable alternatives, you should consider your imparative."

---

Ariel is a highly devout Blood Knight, and a zealous supporter of Lady Liadrin. She is widely known as a very kind hearted person who is slow to anger, and passionate in her duty.

She will fight anyone, and anything, which seeks to bring about nothing but meaningless war and destruction, and use her power to ease suffering and sadness wherever she can find it.
Background

---
The Second War
---
Ariel was a Quel'Dorei Ranger who had recently completed her training, and decided to travel. She wanted to see Lordaeron and meet some Humans. She arrived just prior to the Second War, in time to hear the passionate speeches of Sir Anduin Lothar and felt compelled to join the new Alliance Military.
Ariel served proudly, with all of her heart she believed in potential of the Alliance to bring about a golden age in the world, and she was more than willing to fight for it.
During the war she served along side Nevar Averoux and easily fell in love with the well mannerd soldier. The two protected each other at every turn.
After the war Ariel went to live with Nevar in his homeland of Kul Tiras and came to think of the island nation as her second home. However her relationship with Nevar did not survive in the era of peace, and the two split on good terms a few years after the end of the Second War. They however, remained close friends until his eventual passing. Ariel remained in Kul Tiras, where she found work as an instructor at the Kul Tiras Marine Corps Academy.
---
The Third War

---
Ariel continued to serve along side her former lover Nevar, this is also where they met their soon to be best friend, Roode Brightheart, who became a surrogate son to Nevar. At the on-set of the war, their group were the sole survivors of their legion, they took on the task of escorting refugees from the Capital to boats in Hillsbrad, after that she and the remants of their Legion joined up with Jaina Proudmoore and the Seventh Legion for the battle of Mt. Hyjal.
After the battle of Mt. Hyjal, Nevar, Roode, and Ariel were sent with a small group of soldiers to assist in reclaiming Dalaran. However, despite her never coming into any direct contact with Kael'thas and his forces, Ariel was picked up out of her platoon, her tabard and uniform taken from her, and she was thrown into prison with rest of her people. This left her bitter and angry with the Alliance.
---
The Burning Crusade

---
Ariel did not go to Outland with Kael'thas, she instead returned home to Silvermoon out of a strong desire to help ease the suffering of her people and fight the remants of the Scourge invasion. Suffering from the loss of the Sunwell as much as anyone else of the time, Ariel tapped into the Burning Crystals, and sated herself on them regularly, allowing herself to fall into a deep pit of depression, gluttony, and alcoholism. When the Naaru, M'uru, was brought to Silvermoon, Ariel was given the opportunity and volunteered to become a Blood Knight after managing to pull herself out of the pit she was in. However, she always felt remoseful of what she was doing, stealing the powers of the Light. Ariel was, and for the most part, still is, a black sheep among the Blood Knights due to her background as a Ranger. She prefers light armor, and carries a bow with her often.
When Kael'thas sent the Felbloods to steal M'uru away, she fell into a deep despair, fearing she would once again have to tap into the Burning Crystals and become what she had escaped from, she began to weep and pray, then Lady Liadrin returned to Silvermoon and told the Blood Knights about what A'dal told her, that was the moment when Ariel discoverd the Light would answer her call without the need to steal the power, most would write this off as being the residual power from the magisters keeping M'uru in place, but Ariel often wonders what the truth actually is. Regardless, she swore she would never again do something she knew was wrong, and swore to use her abilities to help everyone she could, and to do everything in her power to ease suffering wherever she could find it.
Ariel, Nevar, and Roode were once more reunited for the battle of Quel'danas and proudly fought back to back, tooth and nail, against the Burning Legion.
---
The Frozen Wastes

---
Ariel served as a Commander in the Blood Knight Order during the iniitial invasion of Northrend. She marched alongside the main forces of the Horde up until the battle of the Wrathgate where she was forced to watch helplessly as her dear friend Nevar became the victim of the Forsaken's plauge. Though he survived, he was left crippled, and on the verge of death.
Having lost the bulk of her forces, Ariel and her remaining Knights were reassigned to the defense of Quel'thalas in the Ghostlands, maintaining a garrison at the Sanctum of the Sun.
A year later, Ariel's garrison was attacked by the new Ninth Battalion under Nevar and Roode's command. Though she tried with all her heart to convince them not to attack, her garrison was wiped out.
Ariel gatherd what help she could around the Ghostlands and managed to sew chaos in the ranks of the Alliance, not by fighting them, but by being kind to them. Ariel managed to single handedly fracture the Ninth Battalion's unity and cause them to fight amongst themselves over weather or not their cause was just.
Nevar had been convinced by the Alliance High Command that Ariel and her garrison was infact preparing a counter offensive in Lordaeron, and that his force was needed to prevent that. He found out from Ariel this was untrue, and was left in a hard position, which eventually lead to a muntiny in which Major-General Nevar Averoux was relieved of his command and detained by Colonel Roode Brightheart and Major Irogol Brightsun. Roode and Irogol attempted to salvage the mission and make a final push against the Blood Elves, but were quickly, and soundly defeated.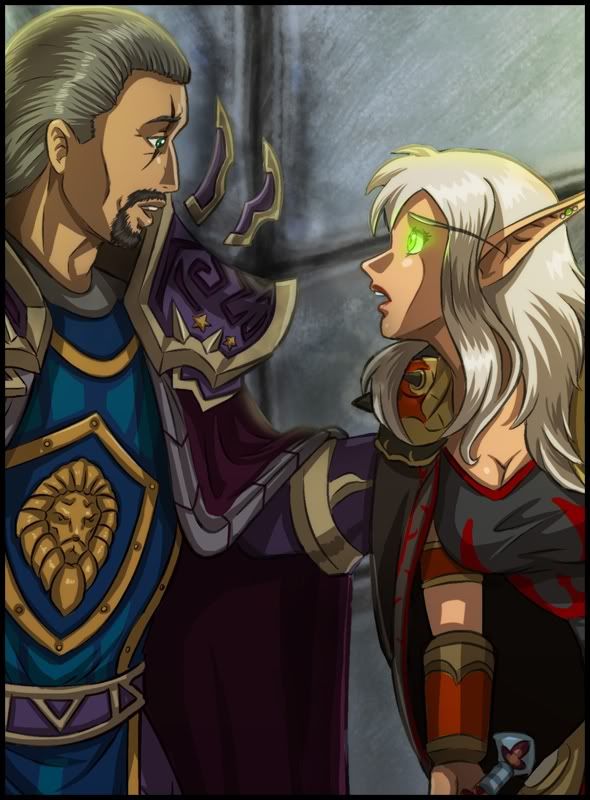 Though the Alliance forces were evatually halted and forced to retreat due to the infighting, Ariel was demoted to Master, and chose to leave Quel'thalas in search of herself.
---
The Apocalypse

---
Since the Cataclysm which saw the return of Deathwing. Ariel has been a wanderer, moving from place to place lending her aid anywhere she could. During a battle in the Tilight Highlands where Ariel was serving the Horde, she met and adopted a young girl named Calissa, though the decisionw as not popular, her family gave her unconditional support.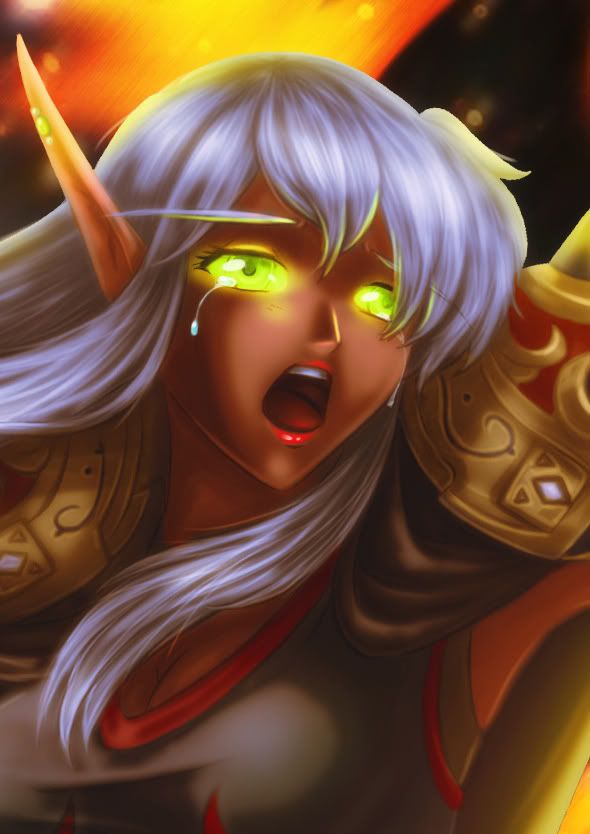 Ariel's service has gained her some noteriaty, allowing her to rise up in the ranks of the Blood Knight Order to the rank of Commander once more. Through her study of the ways of the Light, and a few accidents, she continues to increase her power and has begun taking on students to train in the ways of the Blood Knights. Gaining her the eye of many who do not wish to see her continue to rise in power.
Her duties continue take her to every corner of the world serving as a good will ambassador on behalf of the Blood Knight Order. Doing her best to bring honor to the Order and her homeland through service to the Horde. Her loyalty to the Horde is unwaivering, even if she openly expresses dissatisfaction with their conduct in battles at times.
---
The Present Day

---
Ariel is now focused on her personal and family life more than anything. Doing her part in reuniting her family and bringing honor to the Dawnstrider name, increasing its wealth and influence in anyway she can. This has been slowly drawing more eyes to her, the sort who do not wish to see her, or her family, come to any sort of power.
Comissioned Art, done by the talented Emma Salamanco
http://mizukoiuchi.deviantart.com/
| | |
| --- | --- |
| Friends | Nevar, Calanel, Avatryne, Aeranthiel, Methalec, Annisa, Thagr, Typhor |
| Relatives | Sister: Roxaine Aunt: Clarissa Cousins: Xeu, Elrymir, Celyr Adopted Daughter: Calissa Brother: Leonian |
| Rivals/ Enemies | Anyone she thinks is evil, such as: Roode, Miriyá, Talenthiel |
| Opposite faction attitude | Highly subjective |
| | |
| --- | --- |
| Loves | Swimming, Reading, Strawberries |
| Hates | Snakes, Industrial Technology |
| Motivation | To fight against Hatred |
| Quotes | "Power is whatever one makes of it. Foolish are those who wish for it in excess. Equally foolish are those who resent it for no good reason." |
Arîel's Adventures
Arîel's Adventures
Arîel's Gallery
Arîel's Gallery